Maha Shivaratri 2017 * Combo Offer *

Tracing the life of a 'Teacher of Teachers, Swami Dayananda Saraswati', the 1st volume in this 2-part series focuses on the earlier years of this great master.

In his own words, Swamiji speaks of his transition from an ordinary working life to that of a brahmachari and eventually, his entry into a life of renunciation. He discusses his struggles to grasp and assimilate the vision of Vedanta and the joy of his discovery of the truth.

The simplicity of language and Swamiji's firsthand accounts make this book a must-read for all wishing to fathom the person, the teacher behind the vision.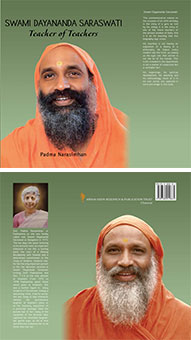 Swami Dayananda Saraswati
Teacher of Teachers
by

Smt. Padma Narasimhan




- 60th Birthday Edition

-
ISBN
:
978-93-80049-88-5
Author
:
Padma Narasimhan
Pages
:
248
Dimensions
:
212mm X 275mm
Cover
:
Hardbound with laminated jacket
Language
:
English

VOLUME 1 - MAHA SHIVARATRI COMBO OFFER

Special Price
:

Rs 2,000

Rs 1,000
'Contributions and Writings,' the 2nd volume, details Swamiji's later years as a teacher on the world scene. It highlights his numerous activities for the preservation of sanatana dharma and the inception of his mission.
With rare and elaborate collections of Swamiji's own written articles, the reader is immediately absorbed into the vastness of Swami Dayananda's intellect and brought to see Vedanta through his eyes!

This 2-part biography series immortalises one of the great teachers of Vedanta of our times- Swami Dayananda Saraswati.'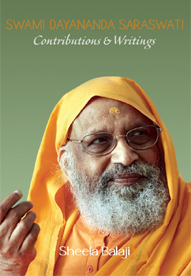 Swami Dayananda Saraswati
Contributions & Writings


by Smt. SheelaBalaji - Ltd. Edition
ISBN
:
978-93-80049-46-5
Author
:
Sheela Balaji
Pages
:
345
Dimensions
:
220mm x 285mm
Cover
:
Hardbound with gold & copper foiled laminated jacket
Language
:
English

VOLUME 2 - MAHA SHIVARATRI COMBO OFFER

>
Special Price
:

Rs 3,000

Rs 1,000
MAHA SHIVARATRI FESTIVAL OFFER

Two-Part Biography Series
only

Rs 2,000