Exploring Vedanta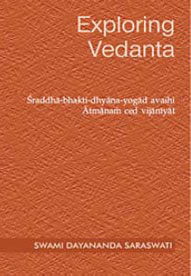 Exploring Vedanta
ISBN
:
978-81-903636-4-8
Author
:
Swami Dayananda Saraswati
Pages
:
62 Pages
Dimensions
:
140mm x 210mm
Language
:
English
Price
:
Rs. 125
"The sentence revealing the equation between energy and matter does not mean anything to the one who is not adequately prepared. The sentences in Vedanta are no exception; they need to be analysed for understanding. The process of analysis implies negation of all possible but wrong meanings leaving the intended vision of the sentence like daylight. This is what we call Vākya-vicāra."

You can buy the books by making payment by Demand Draft,
Cheque or Money Order.
Click here to view more details.