Browse by Media
Book Titles
DVD & CD Titles
USB Card Drive Bundles

USB Card Drive - Video
USB Card Drive - Audio
Audio Bundle
INTRODUCTION TO VEDANTA


Introduction to Vedanta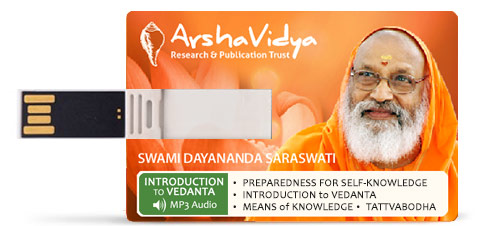 Bundle: INTRODUCTION to VEDANTA
| #308
Teacher / Author
:
Swami Dayananda Saraswati
Place / Year
:
Recorded @ AVG Anaikatti 1990 / 1995 / 2010
Content / Series
:
• Preparedness for Self-Knowledge (Adhikaritvam) - 9 Hrs / 2010
• Means of Knowledge (Pramanam) - 10 Hrs / 2010
• Introduction to Vedanta - 11 Hrs / 1995
• Knowledge of Truth (Tattvabodha) - 29 Hrs / 1990
Nos. of Classes
:
58 Classes
Language
:
English
Audio File Format
:
MP3, 128 kbps, 44.1 kHz
USB Drive Cap.
:
8 Gb
Price
:
Rs.1000
PREPAREDNESS FOR SELF_KNOWLEDGE (ADHIKARITVAM)

Self-knowledge presupposes preparedness – adhikaritvam. Vedanta defines the qualified person.

To gain this self-knowledge, one must have a discriminative mind, an intense desire for freedom and various other requirements. Any knowledge requires a preparation, for which one undergoes a certain education. It is the same with Vedanta which necessitates a certain type of preparation.

MEANS OF KNOWLEDGE (PRAMANAM)

What is nature of knowledge? To understand anything, I need a means of knowledge. What options are available to me when it comes to self-knowledge?

Vedanta alone reveals the truth of myself to​ ​me. All other means of knowledge operate within their own respective spheres. ​What Vedanta does, they cannot ​do.

INTRODUCTION TO VEDANTA

The fundamental problem of a human being is the lack of self-approval. I always try to become something different, constantly seeking approval from others. All my pursuits are expressions of this approval-seeking. But what I really want is to accept myself totally, complete self-acceptance.

Vedanta is a teaching that makes me see the singularity of I, the significance of I. The teaching is that I am already free. I do not have any real problem at all.

TATTVABODHA

Tattvabodha is a Prakarana text for a student beginning the study of Vedanta. Vedanta is a highly analysed subject matter and the various, oft-repeated terminologies in the texts, may leave a spiritual neophyte more than a little bewildered.

A thorough assimilation of Tattvabodha will help one gain a foothold, for any future study of Vedanta.

«Tattvabodhah helps you appreciate the beauty, profundity and vastness of the vision of Vedanta» Pujya Swamiji

You can buy the books by making payment by Demand Draft,
Cheque or Money Order.
Click here to view more details.

© Arsha Vidya Research and Publication Trust - All rights reserved.