Browse by Media
Book Titles
DVD & CD Titles
USB Card Drive Bundles

USB Card Drive - Video
MAHAVAKYA VICARA 2012/13
Aham Brahmasmi | Ayamatma Brahma | Prajnanam Brahma
Tattvamasi - Rishikesh 2012/13
USB Card Drive - Audio


Upanisad - Mahavakya Vicara
- Video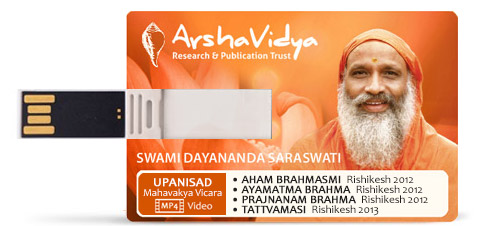 MAHAVAKYA VICARA

- Video
| #315
Author
:
Swami Dayananda Saraswati
Place / Year
:
Recorded @ Arsha Vidya Peetham Rishikesh 2012 + 2013
Content
:
Aham Brahmasmi (2012) - Ayamatma Brahma (2012)
Prajnanam Brahma (2012) - Tattvamasi (2013)
Nos. of Classes
:
64 Classes
Language
:
English
Video File Format
:
MP4 Video
USB Drive Cap.
:
16 Gb
Price
:
Rs. 1200
MAHAVAKYA VICARA:
Mahavakyas, literally -great sayings-, are equations found in the Upanisads of the four Vedas. They reveal that the truth of the individual (atma) and the total (Ishvara or Brahman) is essentially one and the same reality.

Being conscious of himself/herself, a human being experiences self doubt, a sense of inadequacy and insecurity, thus constantly seeking approval from others. Mahavakyas address the human problem fundamentally as they reveal that you are the most significant person. The experiencer/knower (atma) is revealed to be essentially identical with Brahman, the cause of the world, being self-revealing, self-existent consciousness.

You can buy the books by making payment by Demand Draft,
Cheque or Money Order.
Click here to view more details.


More from Category - Upanisad


| From SAMA Veda |
KENA Upanisad (2011) + CHANDOGYA Upanisad ( 2013)


| From ATHARVA Veda |
MUNDAKA Bhashyam (2010) + MANDUKYA Karika (2012)


| From KRISHNA YAJURVEDA |
KAIVALYA Upanisad (2011) + TAITTIRIYA Bhashyam (2012)


| From different Vedas - Teachings of Upanisads 1990-1999 |
KENA (1990) + MUNDAKA (1995) + ISA 1st Mantra (1994)
Satyam Jnanam Anantam Brahma
(1995) + KATHA (1999)
© Arsha Vidya Research and Publication Trust - All rights reserved.