Upanisad - SAMA Veda

Upanisads from SAMA Veda | #301
Author
:
Swami Dayananda Saraswati
Place / Year
:
Recorded during 4th Course @ AVG Anaikatti & AVP Rishikesh
Content
:
KENA Bhashyam (2011) & CHANDOGYA 6th Chapter (1991)
Nos. of Classes
:
61 Classes + 55 Classes [=116 Classes]
Language
:
English
Audio File Format
:
MP3, 128 kbps, 44.1 kHz
Price
:
Rs.1000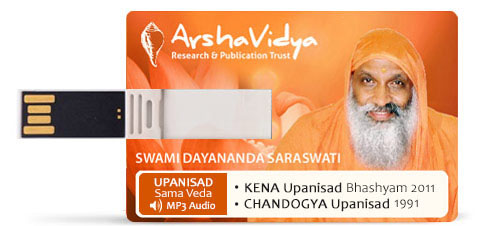 KENA Upanisad

"Ātmā is not something that is beyond the senses, beyond the mind. Our senses can't perform their function without the presence of Ātmā being in the form of consciousness, the awareness principle pervading every sense object cognition. At the same time Ātmā need not function in any particular form, is completely free from them ..."

CHANDOGYA Upanisad Ch. 6

This 6th chapter contains the famous Mahavakya 'Tat Tvam Asi'. At the beginning of his teaching Udalaka tells his son Svetaketu 'sad eva saumya idam agra asid ekam evadvitiyam' ... 'in the beginning all this was one nondual existence alone' ...

You can buy the books by making payment by Demand Draft,
Cheque or Money Order.
Click here to view more details.


More from Category - Upanisad


| From ATHARVA Veda |
MUNDAKA Bhashyam (2010) + MANDUKYA Karika (2012)


| From KRISHNA YAJURVEDA |
KAIVALYA Upanisad (2011) + TAITTIRIYA Bhashyam (2012)


| From different Vedas - Teachings of Upanisads 1990-1999 |
KENA (1990) + MUNDAKA (1995) + ISA 1st Mantra (1994)
Satyam Jnanam Anantam Brahma
(1995) + KATHA (1999)


|

MAHAVAKYA VICARA

- One Mahavakya from each Veda, Rishikesh

2012/13 |


Aham Brahmasmi (2012) + Ayamatma Brahma (2012)
Prajnanam Brahma
(

2012

) + Tattvamasi (

2013

)
© Arsha Vidya Research and Publication Trust - All rights reserved.