Browse by Media
Book Titles
DVD & CD Titles
USB Card Drive Bundles

USB Card Drive - Video
Video Bundle
Rishikesh Retreats 2013
USB Card Drive - Audio


Rishikesh Retreats 2013
- Video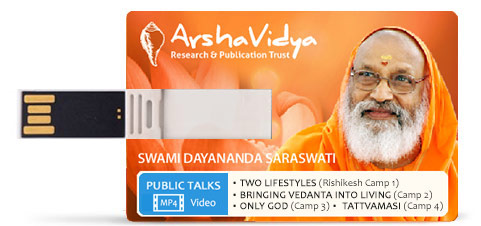 Rishikesh Vedanta Retreats 2013
- Video
| #315
Teacher / Author
:
Swami Dayananda Saraswati
Place / Year
:
Recorded at Swami Dayananda ashram Rishikesh
Content / Series
:

• TWO LIFESTYLES - Rishikesh 2013 [Camp 1]
• BRINGING VEDANTA INTO LIVING - Rishikesh 2013 [Camp 2]
• ONLY GOD - Rishikesh 2013 [Camp 3]
• TATTVAMASI - Rishikesh 2013 [Camp 4]


Nos. of Classes
:
77 Talks
Language
:
English
Video File Format
:
MP4 Video
USB Drive Cap.
:
16 Gb
Price
:
Rs. 1200
Vedanta Retreats in Rishikesh 2013
In March/April 2013, Pujya Swami Dayananda Saraswati conducted 4 retreats in his ashram on the bank of the Ganges in Rishikesh. The video recording of all four retreats are part of this video bundle.

You can buy the books by making payment by Demand Draft,
Cheque or Money Order.
Click here to view more details.

© Arsha Vidya Research and Publication Trust - All rights reserved.