Rishikesh Retreats 2013
- Audio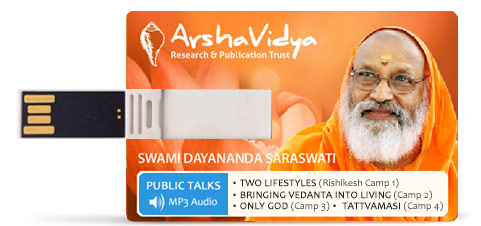 Rishikesh Retreats 2013
- Audio
| #311
Teacher / Author
:
Swami Dayananda Saraswati
Place / Year
:
Recorded at Swami Dayananda ashram Rishikesh
Content / Series
:

• TWO LIFESTYLES - Rishikesh 2013 [Camp 1]
• BRINGING VEDANTA INTO LIVING - Rishikesh 2013 [Camp 2]
• ONLY GOD - Rishikesh 2013 [Camp 3]
• TATTVAMASI - Rishikesh 2013 [Camp 4]


Nos. of Classes
:
77 Talks
Language
:
English
Audio File Format
:
MP3, 128 kbps, 44.1 kHz
USB Drive Cap.
:
8 Gb
Price
:
Rs.1000
Vedanta Retreats in Rishikesh 2013
In March/April 2013, Pujya Swami Dayananda Saraswati conducted 4 retreats in his ashram on the bank of the Ganges in Rishikesh. The audio recordings of these 4 retreats are part of this audio bundle.

You can buy the books by making payment by Demand Draft,
Cheque or Money Order.
Click here to view more details.

© Arsha Vidya Research and Publication Trust - All rights reserved.