Upanisad Series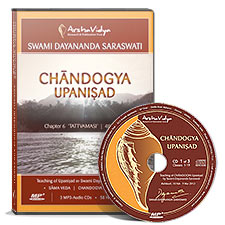 Chandogya Upanisad
ISBN
:
NA
Author
:
Swami Dayananda Saraswati
Place / Year
:
Rishikesh 2013
# / hrs
:
Set of 3 MP3 CDs - 58 Hrs
Language
:
English
Price
:
Rs. 600
This 6th chapter contains the famous Mahavakya 'Tat Tvam Asi'. At the beginning of his teaching Udalaka tells his son Svetaketu 'sad eva saumya idam agra asid ekam evadvitiyam' ... "in the beginning all this was one nondual existence alone" ...

You can buy the books by making payment by Demand Draft,
Cheque or Money Order.
Click here to view more details.


More from Subject 'Upanisad'
© Arsha Vidya Research and Publication Trust - All rights reserved.