Introduction to Vedanta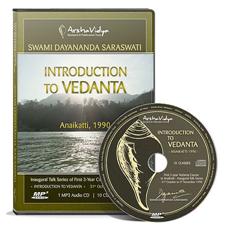 Introduction to Vedanta 1990
ISBN
:
NA
Author
:
Swami Dayananda Saraswati
Place / Year
:
Anaikatti 1990
# CDs / hrs
:
1 CD - 10 Hrs
Language
:
English
Price
:
Rs. 200
We spend all our lives in the pursuit of various pleasures, wealth and fame expecting these will give us total fulfillment. Yet, each moment of joy is only that: momentary, showing up the rest of our lives to be unsatisfying, somehow lacking and incomplete. On the other hand, Vedanta, the body of knowledge found at the end of the Veda, asserts with breathtaking boldness that one's true nature is completeness and limitlessness. Vedanta also promises that moksha, liberation from all forms of limitations that seem to bind a human being, is possible here and now.

You can buy the books by making payment by Demand Draft,
Cheque or Money Order.
Click here to view more details.


More from Subject 'Vedanta'



© Arsha Vidya Research and Publication Trust - All rights reserved.