Upanisad Series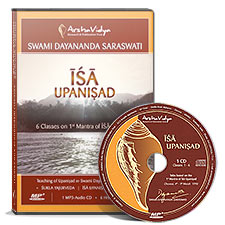 ĪŚĀ Upanisad
ISBN
:
NA
Author
:
Swami Dayananda Saraswati
Place / Year
:
Chennai 1990
# / hrs
:
1 MP3 Audio CD - 6 Hrs
Language
:
English
Price
:
Rs. 200
All that is here, the knower and the known, and even all that is unknown to the knower, viditam aviditam idam sarvam Īśvareṇa vyāptam, is pervaded by Īśvara. The conscious being with the power of māyā, we call Īśvara (...)

You can buy the books by making payment by Demand Draft,
Cheque or Money Order.
Click here to view more details.


More from Subject 'Upanisad'
© Arsha Vidya Research and Publication Trust - All rights reserved.