Upanisad Series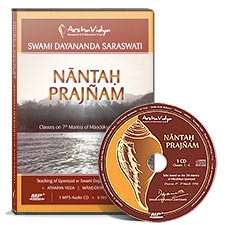 Nantah Prajnam
(7th Mantra of Mandukya Upanisad)
ISBN
:
NA
Author
:
Swami Dayananda Saraswati
Place / Year
:
Chennai 1990
# / hrs
:
1 CD - 6 Hrs
Language
:
English
Price
:
Rs. 200
The focus (tatparyam) of Mandukya Upanisad is only on the fourth quarter (Turiya). In this 7th mantra, Turiya is revealed as the nondual substratum by mere negation (apavada) of the first three quarters, Visva (waker), Taijasa (wreamer) and Prajna (sleeper, causal state) ...

You can buy the books by making payment by Demand Draft,
Cheque or Money Order.
Click here to view more details.


More from Subject 'Upanisad'
© Arsha Vidya Research and Publication Trust - All rights reserved.