Upanisad Series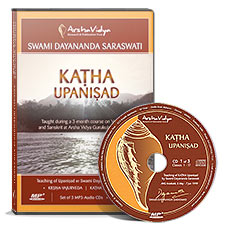 Katha Upanisad
ISBN
:
NA
Author
:
Swami Dayananda Saraswati
Place / Year
:
Anaikatti 1999
# / hrs
:
Set of 3 MP3 CDs - 52 Hrs
Language
:
English
Price
:
Rs. 600

- OUT OF STOCK -
"In the form of a dialogue between Naciketas and Lord Yama, the Katha Upanisad covers all the important topics in Vedanta, like adhikāritvam, the need for proper teaching, the cause-effect relationship and the final equation of jīva-īśvara aikyam, without leaving anything to be desired ..."

You can buy the books by making payment by Demand Draft,
Cheque or Money Order.
Click here to view more details.


More from Subject 'Upanisad'
© Arsha Vidya Research and Publication Trust - All rights reserved.