BHAGAVADGITA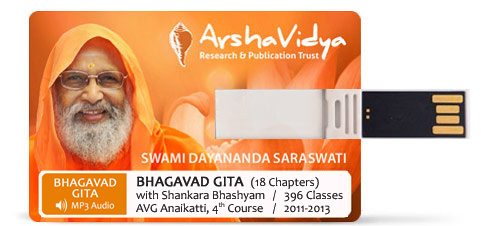 BHAGAVAD GITA with BHASHYAM
| #320
Teacher / Author
:
Swami Dayananda Saraswati
Place / Year
:
AVG Anaikatti 2011-2013
Content / Series
:

• BHAGAVAD GITA w. Bhashyam - 18 Chapters
• PUJYA SWAMIJI CHANTS THE BHAGAVAD GITA


Nos. of Classes
:
396 Classes + Chant of Bhagavadgita by Pujya Swamiji
Language
:
English
Audio File Format
:
MP3, 128 kbps, 44.1 kHz
USB Drive Cap.
:
32Gb (used: 19.5 Gb)
Price
:
Rs.1500
About the Bhagavadgita
"The Bhagavadgita gives a view and way of life. The view is that the self is free from any blemish that inhibits self-approval. In reality, the self is the whole. While unfolding this truth it helps one with a way of life, making one a mature person ..."

Swami Dayananda Saraswati

You can buy the books by making payment by Demand Draft,
Cheque or Money Order.
Click here to view more details.

© Arsha Vidya Research and Publication Trust - All rights reserved.