Upanisad - ATHARVA Veda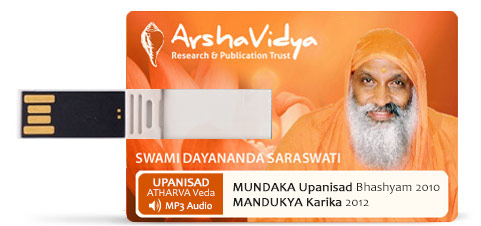 Upanisads from ATHARVA Veda
| #302
Author
:
Swami Dayananda Saraswati
Place / Year
:
Recorded during 4th Course @ AVG Anaikatti
Content
:
MUNDAKA Bhashyam (2010) & MANDUKYA Karika (2012)
Nos. of Classes
:
66 Classes + 95 Classes [=161 Classes]
Language
:
English
Audio File Format
:
MP3, 128 kbps, 44.1 kHz
USB Drive Cap.
:
8 Gb
Price
:
Rs.1000
MUNDAKA Upanisad -

When a person recognizes Brahman, who is in the form of cause and effect, the binding knot of ignorance in his heart resolves, his doubts are cleared and all his karmas are exhausted. (Mundaka Upanisad 2.2.9)

Every upanisad is a word mirror which reveals that the one who is looking at it, is the only one who makes things happen, exist and resolve.

Swami Dayananda Saraswati taught MUNDAKA Upanisad with Shankara Bhasyam during the 4th long-term course at AVG Anaikatti from 30th October to 9th December 2010.

Mandukya Karika -

The Mandukya Upanisad is part of Atharva Veda and it is an important upanisad because it has a prakriya.

The prakriya - avastha trayam prakriya (three states of experience ) – is employed to present the vision of oneness of jiva and Isvara.

With only 12 Mantras, Mandukya Upanisad is short but thorough. It is said that if one understands Mandukya Upanisad, it is enough to gain freedom, liberation from all limiting notions caused by self ignorance.

You can buy the books by making payment by Demand Draft,
Cheque or Money Order.
Click here to view more details.


More from this Category - Upanisad


| From SAMA Veda |
KENA Upanisad (2011) + CHANDOGYA Upanisad ( 2013)


| From KRISHNA YAJURVEDA |
KAIVALYA Upanisad (2011) + TAITTIRIYA Bhashyam (2012)


| From different Vedas - Teachings of Upanisads 1990-1999 |
KENA (1990) + MUNDAKA (1995) + ISA 1st Mantra (1994)
Satyam Jnanam Anantam Brahma
(1995) + KATHA (1999)


|

MAHAVAKYA VICARA

- One Mahavakya from each Veda, Rishikesh

2012/13 |


Aham Brahmasmi (2012) + Ayamatma Brahma (2012)
Prajnanam Brahma
(

2012

) + Tattvamasi (

2013

)
© Arsha Vidya Research and Publication Trust - All rights reserved.