Upanisad - 1990-1999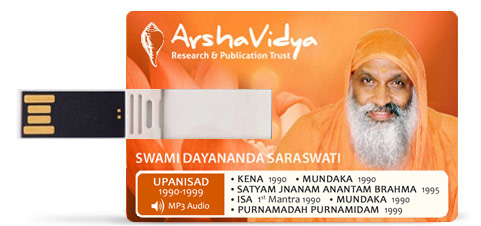 Upanisads from different Veda (1990-99)
| #306
Author
:
Swami Dayananda Saraswati
Place / Year
:
differerent years & places
Content
:
• Nantah Prajnam - Mandukya Up. Mantra 7 (1990)
• KENA Upanisad (1990)
• MUNDAKA Upanisad (1995)
• KATHA Upanisad (1999)
• Satyam Jnanam Anantam Brahma (1995)
• ISA Upanisad 1st Mantra (1994)
• PURNAMADAH PURNAMIDAM (1999)
Nos. of Classes
:
132 Classes/Files
Language
:
English
Audio File Format
:
MP3, 128 kbps, 44.1 kHz
USB Drive Cap.
:
8 Gb
Price
:
Rs.1000
KENA Upanisad

"Ātmā is not something that is beyond the senses, beyond the mind. Our senses can't perform their function without the presence of Ātmā being in the form of consciousness, the awareness principle pervading every sense object cognition. At the same time Ātmā need not function in any particular form, is completely free from them ..."

MUNDAKA Upanisad

When a person recognizes Brahman, who is in the form of cause and effect, the binding knot of ignorance in his heart resolves, his doubts are cleared and all his karmas are exhausted. (Mundaka Upanisad 2.2.9)

Every upanisad is a word mirror which reveals that the one who is looking at it, is the only one who makes things happen, exist and resolve.

KATHA Upanisad

In the form of a dialogue between Naciketas and Lord Yama (Lord of Death), the KATHA Upanisad covers all the important topics in Vedanta, like preparedness of mind, the need for proper teaching, the cause-effect relationship and the final equation of essential identity of the individual and the Lord, Ishvara, which leaves nothing to be desired.

ISA Upanisad - 1st Mantra

- description to be added -

Satyam Jnanam Anantam Brahma

- description to be added -

You can buy the books by making payment by Demand Draft,
Cheque or Money Order.
Click here to view more details.


More from this Category - Upanisad


| From SAMA Veda |
KENA Upanisad (2011) + CHANDOGYA Upanisad ( 2013)


| From ATHARVA Veda |
MUNDAKA Bhashyam (2010) + MANDUKYA Karika (2012)


| From KRISHNA YAJURVEDA |
KAIVALYA Upanisad (2011) + TAITTIRIYA Bhashyam (2012)


|

MAHAVAKYA VICARA

- One Mahavakya from each Veda, Rishikesh

2012/13 |


Aham Brahmasmi (2012) + Ayamatma Brahma (2012)
Prajnanam Brahma
(

2012

) + Tattvamasi (

2013

)
© Arsha Vidya Research and Publication Trust - All rights reserved.