Upanisad - KRISHNA YAJURVEDA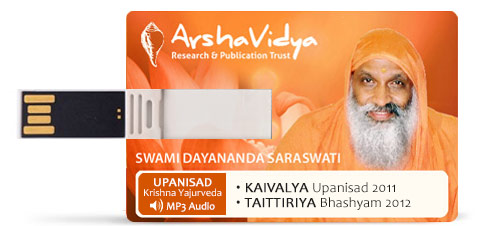 Upanisads from KRISHNA YAJURVEDA
| #305
Author
:
Swami Dayananda Saraswati
Place / Year
:
Recorded during 4th Course @ AVG Anaikatti
Content
:
KAIVALYA Upanisad (2011) & TAITTIRIYA Bhashyam (2012)
Nos. of Classes
:
17 Classes + 136 Classes [=153 Classes]
Language
:
English
Audio File Format
:
MP3, 128 kbps, 44.1 kHz
USB Drive Cap.
:
8 Gb
Price
:
Rs.1000
KAIVALYA Upanisad

This Upanisad is in the form of a dialogue between Asvalayana, the disciple and Lord Brahma as the teacher. Asvalayana approaches Lord Brahma and asks for the knowledge of Brahman ...

TAITTIRIYA Upanisad Bhashyam

"The truth of a thing is changelessness because it does not depend on another. Change is not the truth as it depends on another. If you want to understand the tattvam or svarupa of a thing without mixing up with anything, you look for the nature of the object minus all other incidental associations or combinations.

You have to apply this definition – para-anapeksatvam vastunah tattvam - what does not depend on another thing is the tattvam of a thing. What is natural to the object, that is the svarupa of the object. The tattvam of a clay product is clay because it does not depend upon potness, plateness, lidness, etc. They do not depend upon anything to be clay. From this definition, we are led to Brahman, atma. It is a brilliant analysis."

Swami Dayananda Saraswati

You can buy the books by making payment by Demand Draft,
Cheque or Money Order.
Click here to view more details.


More from this Category - Upanisad


| From SAMA Veda |
KENA Upanisad (2011) + CHANDOGYA Upanisad ( 2013)


| From ATHARVA Veda |
MUNDAKA Bhashyam (2010) + MANDUKYA Karika (2012)


| From different Vedas - Teachings of Upanisads 1990-1999 |
KENA (1990) + MUNDAKA (1995) + ISA 1st Mantra (1994)
Satyam Jnanam Anantam Brahma
(1995) + KATHA (1999)


|

MAHAVAKYA VICARA

- One Mahavakya from each Veda, Rishikesh

2012/13 |


Aham Brahmasmi (2012) + Ayamatma Brahma (2012)
Prajnanam Brahma
(

2012

) + Tattvamasi (

2013

)
© Arsha Vidya Research and Publication Trust - All rights reserved.